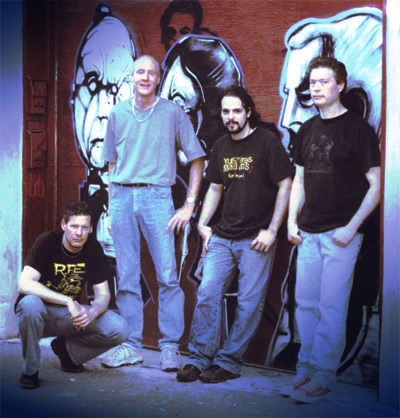 Brain Size 61 - National Pinecone
Brain Size 61 is proud to unveil its very first sonic accomplishment; a freshly scented CD entitled National Pinecone. This classic punk influenced, coniferous aural assault comes straight at you with Brain Size 61 's crunchy rhythms and huge guitars. You can almost smell the influences of the Pistols, Ramones and Iggy in the air, not to mention some of the tastiest and nastiest lyrics on the planet. To top it all off there are blazing guest tracks by Mikey Heppner of Priestess and Les Godfrey from the band Illuminati that must be experienced to be believed. Recorded in the deep underground confines of the luscious Trucker Nutz Studios , this bodacious 14 track power punk disc is just the ticket to put the pine in your cone.
Led by the reclusive Hutchins brothers, Craig and Mike, Brain Size 61 carries their unique perspective on the world through the humongous guitar sounds of Mike's handmade Richtone brand amplifiers and Craig's yowls of human disdain. Pounding out the Brain Size 61 rhythm is the ferocious drumming of Rick Stockall and the slamming bass of Jean-Michel Reid. Mike compares himself to a club sandwich though he cannot adequately explain why. Craig has turned a penchant for assembling lawn furniture and an addiction to hand sanitizer into absolutely nothing. Rick is beef. Maybe bad, barely hot dog grade beef, but beef just the same. Then there are those who would claim Jean-Michel is just weird but weird in a wondrous way.
The result is a succulent stew of punk rock heaven. The self proclaimed "laziest band... ever" does indeed get the notes right every once in a while and the tasty results will leave you hungry for more.