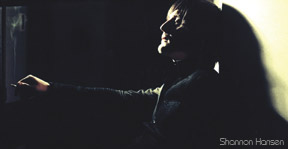 Deweare - High Class Trauma
High Class Trauma , Deweare's first album has finally arrived. The birth was delivered naturally under the keen eyes and ears of Doctors JP-Goncalves, A.McMahon (Plaster) and Carl Bastien (producer on albums by Dumas, Ariane Moffatt, and Daniel Bélanger). These 10 pop/rock tracks will lead the entire nursery to places where minors are not permitted, with far too much cigarette smoke in the sound and well over the recommended amount of gasoline in the mix. Like coke cut with absinthe, Deweare's pop boosts your adrenaline and leaves the taste of licorice on your lips. This Frenchman sings of dirty love down on a rug of soul. A nightingale crooner with a Gainsbourgian air, Deweare pecks at the line dividing funk from punk and invites himself to sit at each and every table. Sparing no stylistic paradox, he mixes the entrée with the dessert, according to the teachings of Beck and company. Following in the footsteps of Philip K. Dick, he bases his words on everyday hallucinations, transforms missed dates into music, and adds rhythm to déjà-vu.

Deweare [de-vair]
Many take offence when we mispronounce their name. That isn't the case for Deweare, who has heard his patronym mutilated at all possible phonetic angles, from [de-wair] to [day-weer]. The Frenchman has never bothered to correct erring speakers, convinced that to make a name for yourself, you must sometimes give it up. Ask [Portis-head], they'll know what you mean... In any case, what counts in the music business is that you are discovered and that they remember you. It is on this matter that Deweare has been hard at work since his arrival in North America. He performed on the big stage at the last Festival International de Jazz (with Afrodizz), sang Anamour (by Serge Gainsbourg) with Arianne Moffatt at the last Francofolies de Montréal , opened for The Herbaliser at the last Nujaz Festival at the Olympia, and, realizing an old fantasy, accompanied Cyndi Lauper on the guitar in front of a packed Metropolis, bursting at the seams as the crowd sang along to Girls Just Want To Have Fun . While High Class Trauma was still in utero , this native of Verdun, in the east of France, had already performed on some of the city's grandest stages, and had left, engraved in the floorboards, I'll be back, like a Terminator with something other than a transistor for a brain. A brief mention of Deweare's life in Europe (France and Belgium) and his previous projects is warranted. There was grungy Franck Marx, recorded on Belgian label Bang! (Discoverers of dEus). Also noteworthy were solid opening sets for Alain Bashung, Bérurier Noir, and Ministry, shows on epic stages like Paris's Gibus, Prague's Roxy, and the Dour Festival, encounters with Jimi Miller (producer for the Rolling Stones and Motorhead), and Brian James (The Damned and Lords of the New Church), as well as kilometers of recorded tape and interplanetary lengths of guitar strings... It was in 2004, that he surfaced in Montreal, thanks to Arianne Moffatt's tender care. He had met the dear Miss Moffatt in a diverted plane, and she did him the great honour of opening her address book and plugging him in to the upper crust of the local music scene. Since then, he has been surrounded by an ever-variable cadre of musicians, including members of Plaster. He is also the "Fashion Terrorist," the subject for the single off Afrodizz's last album. With High Class Trauma , Deweare is throwing oil on the fire and offering a salve for your burns. Let go, go for it, it's for your own good.