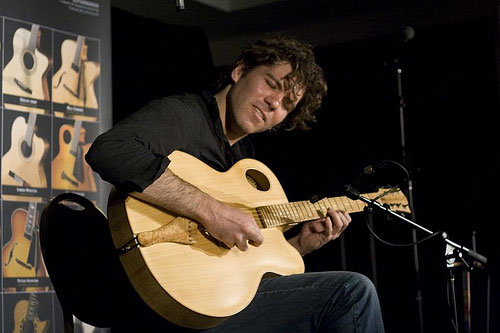 Stéphane Tellier - Stéphane Tellier
« Where did he learn to play like that??? » : Brilliant remark by Yasha Aginsky, a San Francisco folk musician and cinematographer twice nominated for an Oscar ®, while listening to a Stéphane Tellier solo in the song Lime House Blues.
Stéphane Tellier offers us with his first album, a range of the various musical styles that he particularly likes, from the "American Roots" to Blue Grass, Jazz and Country-Folk. Among the many artists Tellier has collaborated and played with over the years, we find Benoît Charest for his project, Triplet's of Belleville and the Manouche band, Blues Gitan. Tellier also played with Kevin Parent on his album "Hommage à Félix" published in 2008, and with Tricot Machine, La Vesse du Loup and several others. Moreover, Stéphane wrote and composed the music for Sébastien Patenaude's film "Tiens ferme" in 2007 and Hejer Charf's film, "Les Passeurs", in 2003.
And to say that Major Baseball League's Baltimore Orioles had Stéphane Tellier as a gifted pitching prospect!!! Imagine that! Tellier, 15 years old, of Sorel… It appears that his fastball whistled in C flat… But music won… for our greater happiness!
Self-taught and imaginative, Stéphane commands respect everywhere he plays.